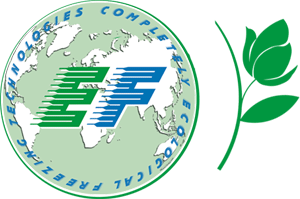 Vision & Story
Founded in 2004 by Tony C. De Blick, ECO-Freeze evolved into a global brand built on a very lean and agile international infrastructure.  Our skillful team of ECO-Freeze partners, agents and distributors work closely together to produce and sell natural hydrocarbon refrigerants all over the world.
Hydrocarbon refrigerants like ECO-Freeze have been recognized by international corporations like ABB, Siemens, Hyundai, Toyota, Nissan, Honda, Mazda, Peugeot and many others. We deliver high-quality solutions that have proven to help our clients decrease energy consumption and extend the service life of their equipment. At the same time we help to reduce the ecological impact of our clients and contribute to the preservation of the ozone layer and the protection of the environment.
Chemical refrigerants play a major role in today's climate problem as they significantly contribute to both global warming and ozone layer depletion. Our products are completely sustainable: they do not contain chlorine or fluorine, which are considered as the most harmful substances to the environment by the Montreal and Kyoto protocols. We're proud to contribute to the preservation of the environment and to the planet's global health as well.
The organic ECO-Freeze products perform better than any existing chemical alternatives on the market, particularly under extreme operating conditions.
Initially chemical companies developed HFC refrigerants as replacements for CFCs in an attempt to address the problem of ozone layer depletion. However, high contribution of HFCs to global warming coupled with unacceptable greenhouse gas emissions released during manufacturing, made it necessary to phase them out as soon as possible.
We provide the answer to this problem. ECO-Freeze supports this organizational transformation and helps companies to make the shift to the only sustainable and ecologic option available.
Don't hesitate to reach out to any of our representatives to request more information or discuss opportunities.
Sincerely,
Tony C. De Blick
Offices & Operations Locations

E.F. International bvba
Boombekelaan 11E
B-2660 Hoboken (Antwerp)
Belgium
+ 32 498 648 933 – Arya Mohadjerin
of initial load
weight required
 ECO-Freeze is committed to reducing the impact of global warming via its range of sustainable, organic, non-toxic, energy- & eco-efficient refrigerants that are compatible with almost all automotive, industrial or commercial sytems.
No retrofitting required!
You can trust the ECO-Freeze brand to always push the industry standards to the highest level, to explore and adopt the latest technological discoveries and to deliver the most outstanding customer experience possible.
The ECO-Freeze brand differentiates itself from others through the consistent quality and very high purity of its products.
We value our business partners greatly, and we'll do things beyond our powers to achieve maximum customer satisfaction.
What helps the ECO-Freeze brand stand out the most, however, are the extraordinary high standards of after-sales service and customer care.